Over the last two decades, Lauren Mote's bartending career has taken her to dozens of countries around the world. The former Vancouverite shares some of her favourite drink recipes, along with the globetrotting experiences that inspired them, in her first book, A Bartender's Guide To The World: Cocktails and Stories from 75 Places. It hits shelves on October 25, 2022.
---
In 2013, I wrote a beverage program for the Four Seasons Hotel Vancouver focused on raising awareness about the world's lakes, oceans, and water systems and educating guests through great cocktails that would bring the stories to life. I couldn't know at the time that my pitch to the powers that be would set up quite a few programs for me over the next seven years.
In 2017, the team in Whistler, British Columbia, contacted me. They loved the Oceans Program in Vancouver and wondered what would be possible for the mountains. I was thrilled and pitched an idea called "Spirit of the Mountains"— volcanoes, craters, windows to the heavens, and our intrinsic connection to them. This global-feeling program brought the stories of different mountainous regions to Whistler for guests to learn and enjoy while relaxing at the hotel during their mountain getaway.
One of my favorite drink stories involves Africa's tallest peak, Mount Kilimanjaro. The rich orange Tanzanian soil in the surrounding area gives us excellent coffee, bananas, and spices. A drink works best when at least one ingredient from a region is spotlighted—that is how we truly honour the area. We can "visit" these places by supporting and tasting products from local communities.
Luckily, there are great companies out there, like Level Ground, that provide single-origin fair-trade products. Procuring regional coffee is the best place to start. My friend Nicola Riske and I have often talked about doing the hike to Kilimanjaro's summit and seeing this place for ourselves. We hope to have the opportunity one day, but in the meantime we can travel through the glass.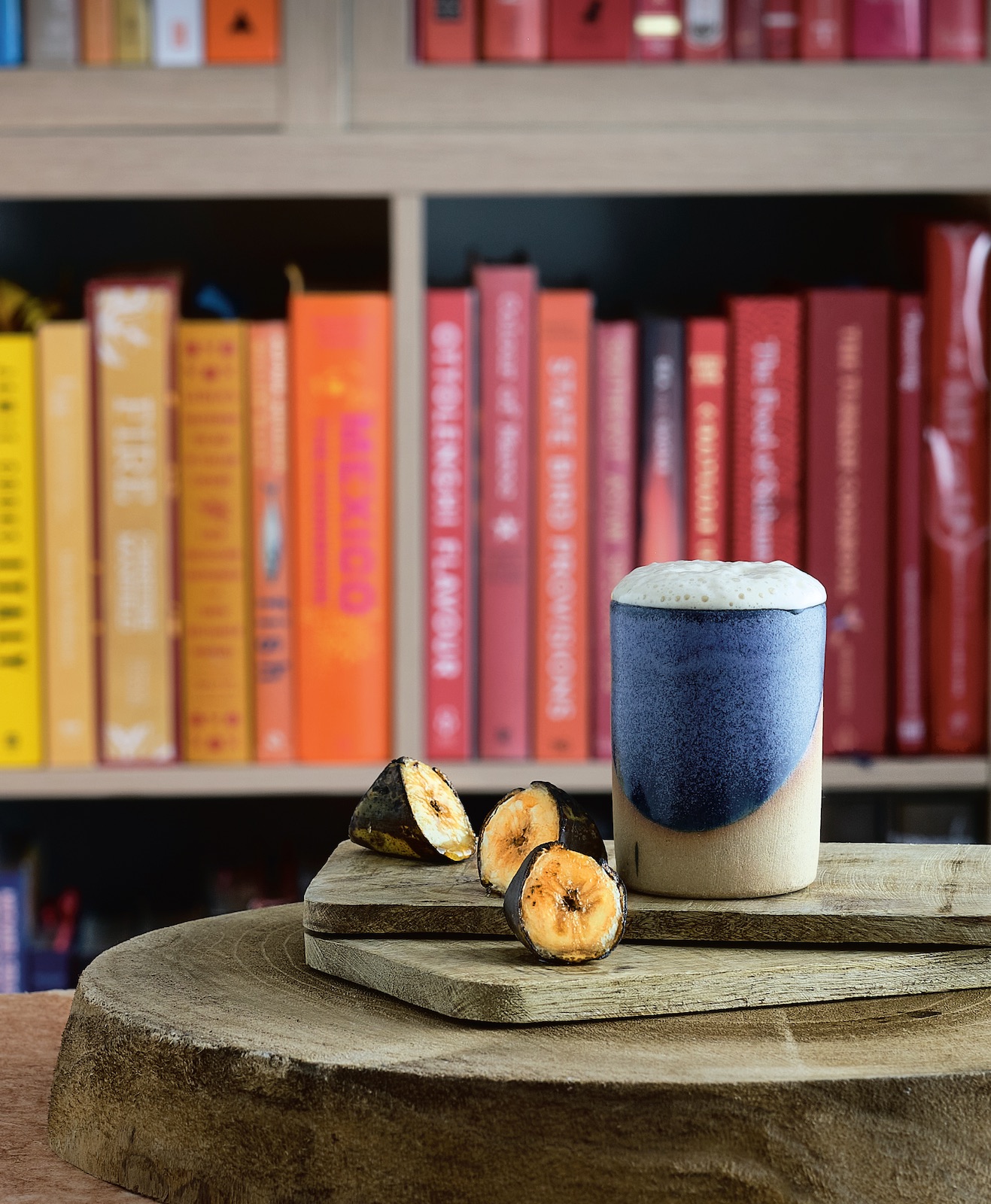 Peak Me Up
Area of inspiration: Mt. Kilimanjaro, Tanzania
Inspired by: the Espresso Martini
Ingredients
1 ounce spiced rum
1 ounce Singularity Dark Vermouth or Averna amaro
½ ounce banana liqueur
2 ounces cold brewed coffee
½ ounce coconut flower nectar
3 dashes spicy aromatic bitters (like Bittered Sling Moondog Latin)
Garnish: Caramelized banana pyramid (recipe follows)