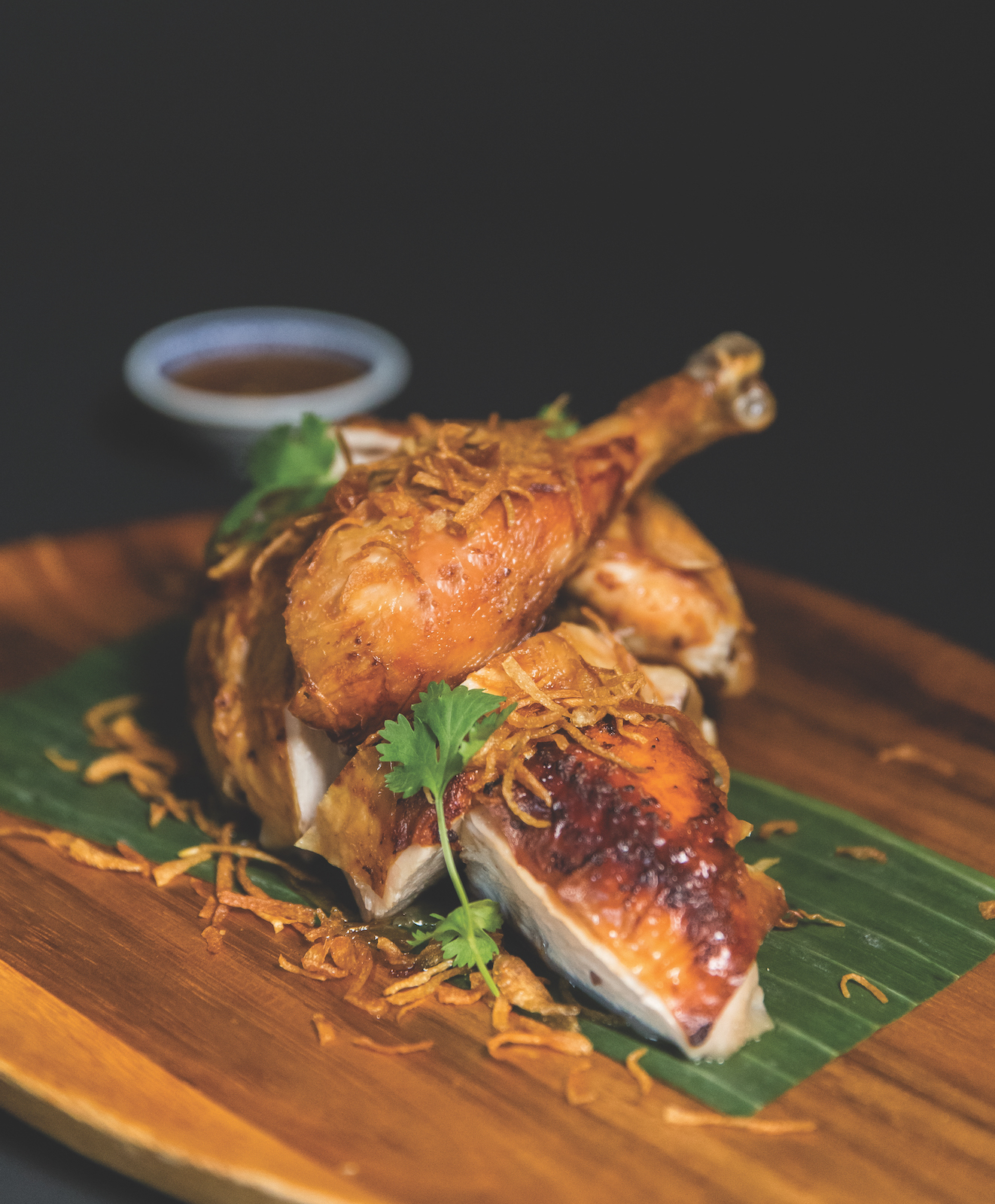 On a recent trip to Thailand, Vancouver chef Angus An⁠—of Maenam and Freebird Chicken Shack⁠—revisited a favourite dish that originated along the Mekong River and has spread throughout Thailand. He takes us on a tour of the best grilled chicken in Thailand, and shares his own recipe.
---
"Gai Yang is one of the best dishes I discovered on my first trip to Chiang Mai. This beautifully simple dish originated from Laos and Isan, and is readily available in street stalls, market stalls and restaurants in that region. What I loved most about this dish is its simplicity. Afterall, who doesn't love a good grilled chicken? SP Chicken in Chiang Mai makes one of my favourite versions⁠—a simple marinade of garlic and lemongrass enhances the aroma when the chicken is grilled on the charcoal rotisserie. Because of this experience, I strongly encourage using a wood fire or charcoal grill when making my recipe. Make sure to let your charcoal burn until amber, then break it apart a bit and spread it evenly on the base of the grill before you grill. Aim for medium-low heat; if you have a thermometer, it should read around 325 fahrenheit. If it gets too hot you will scorch the skin before the meat is cooked through."
Angus An's Gai Yang
Serves 4-6
Ingredients
For the chicken
Two 1 ½ to 2 pound free-range chickens
½ cup palm sugar
½ cup sugar
1 cup fish sauce
1 cup garlic cloves
1 cup coconut cream
1 tablespoon dark soy sauce
A pinch of white pepper
For the nahm jim jaew sauce
¼ cup toasted ground rice
¼ cup fried shallots
¼ cup finely sliced pak chi farang (also known as culantro)
½ cup tamarind water
¼ cup lime juice
¼ cup fish sauce
¼ cup finely sliced shallots
3 tablespoons palm sugar
A large pinch of chili powder (we use blue tongue chile powder, from bird's eye chilis)
Method
For the chicken
Butterfly the chicken by cutting through the back bone and leaving the breastbone attached. Flatten the hen by slightly breaking the breast bone so the hen sits flat on your cutting board.
Blend all remaining ingredients together, and marinate the chicken in this mixture overnight.
Start a fire with charcoal in your grill. Let the charcoal go for 45 minutes and spread it onto one layer. Once the flame has died down, grill the hen over the grill until golden, about 15 minutes each side depending on size. The dying charcoal should be about the same as medium low heat on a gas grill.
To prevent the skin from burning, make sure to adjust the distance between the grill and charcoal, or smother the charcoal with some grated coconut. You want to slowly grill the chicken while achieving browning and crisping of the skin at the same time. Heat that is too strong or direct will burn the chicken before the inside is cooked.
For the nahm jim jaew
In a medium sized bowl, stir all ingredients until well combined. Check seasoning and adjust with added lime, fish sauce or sugar until equally sweet, salty, sour and spicy. Transfer to a lidded container and store in the fridge for up to 3 days.
To serve
Place cooked chicken on a large serving platter and serve with a small bowl of nahm jim jaew.